In This Edition…
App Updates & Improvements
Who is Color My Life?
Subscription Increase
Barcode Catalog Updates
Tips & Tricks
Community Announcements
CML Insiders
App Updates & Improvements:
Web Updates:
Added a "Storage Location" filter to the browse screen
Updated the Settings/Membership banner to make information clearer
On the multi-select screen, added floating help text to the icons
Fixed a bug where filter values were not always displayed
Server Updates:
Fixed a bug that sometimes stopped sync between devices
Steadily adding missing thumbnails, used by the Web app and Report. It's a work in progress and should be completed within a week.
Who is Color My Life?
You may already have seen the "About us" page on our website.

To expand on that, Renee, our calm and collected leader, is a paper crafter (2,300 items in the app). The idea for the Color My Life app arose from her need for an easy way to catalog her supplies, with a beautiful and inspiring way to search and view them. Our team sometimes debates ways to implement a feature, but Renee's crafty eye always has the final say. In addition, Renee has a full-time job writing technical IT requirements for business users and ensuring the resulting software functions correctly. Those skills, combined with practical crafting experience, are a perfect match for setting the direction for CML. She also manages all of the barcode catalog content.
The technical and support teams are headed by Mick, her husband and crafting widow. He has flexible hours as a consultant helping start-ups design their electronic products, allowing time to provide technical input and look after support (yes, you may have had a support ticket answered by him!). But those tickets often trigger deep dives into the operation of the app and servers to fault-find and fix issues. So if your ticket isn't answered within a day or so, it's likely because he's geeking out solving problems.
The developers at CML are an amazing team that covers iOS, Android, the mobile app back-end, UI design, and the web app front and back-end. They are dedicated to bringing the best features to the app and ensuring it runs smoothly for all users.
Renee and Mick take a long-term view of CML. They are a small company, with no outside investment. They personally contribute 80% of the company's start-up costs and know it will eventually be self-sustaining, with the hope that they will eventually be paid for their time and effort. There are a wide range of initiatives planned to bring much-requested features, as well as the next phase in our roadmap. It's too early to share these plans, but we are fired up and think you will love it!
Subscription Increase Effective July 1, 2023:
When the iOS app launched in 2019, the subscription price was set at $1.49/month, $14.99/year. Since then, Android was released in 2020, and now the Web app in 2023. There have also been any new features added to these platforms. After 4 years of improvements and enhancements, effective July 1, 2023, there will be a slight increase to the subscription price: $1.99/month, $19.99/year. We are so grateful for every subscriber who has helped support the app, and we hope you feel this is still of great value.
For monthly subscribers, it may be time to consider changing from monthly to yearly and lock in the current price. Read below for instructions on how to do this:
Android:
There is more than 1 way to do this, but in all cases, Android requires that you cancel the monthly subscription and wait until it expires, then start the yearly subscription.
In the Color My Life app:
1. Settings tab
2. Select the Membership banner at the top of the screen and it will take you to the Google subscriptions screen.
Change subscription on the Google Play app (Google description)
Go to the Google Play Store app on your phone.
Click on the Menu Options button (three horizontal lines).
Select Account and then select Subscriptions.
From there you will be able to cancel your monthly subscription, and purchase a yearly subscription when once your monthly subscription expires.
iOS:
In Apple's AppStore app:
1. Touch your image in the top right
2. Select "Subscriptions"
3. Select the Color My Life subscription
4. You should see an option for Monthly and Yearly subscriptions.
5. Select the yearly, then follow the prompts.
The change will take effect at the end of the current month's subscription.
Barcode Catalog Updates:
Colorado Craft Company:
New to the app! Are you looking for stamps and dies that are both intricate and versatile? Look no further than the Colorado Craft Company! Their designs are packed with detail, allowing for endless customization and creative expression. From charming and whimsical animals to elegant and sophisticated floral motifs, Colorado Craft Company has something for every project and every mood. Take a look at some of their most exciting new arrivals here.

Sunny Studio:
The Summer 2023 release has been added to the app and includes some fun birthday and celebration stamps and dies. There are also new complementary layering products to their Color My World line; what a great addition! You can find more details and inspiration here.

Other Catalog Updates: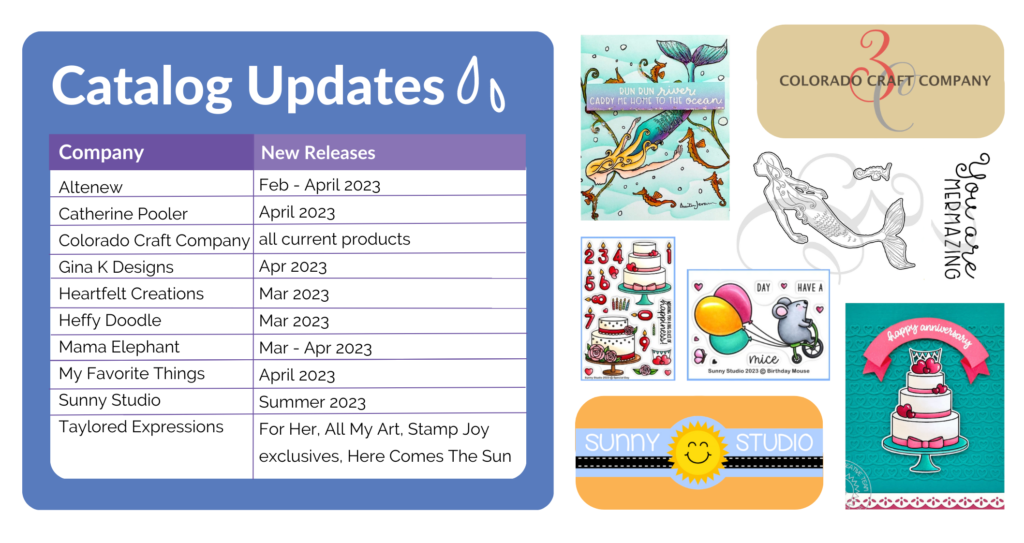 Tips & Tricks:
Problem Logging into Web App: If you try to log into the web app and are getting the message to upgrade your mobile app, but your device is already current (Android: 1.6.4 or iOS: 1.7.0), we have a suggestion for you. Make a small change in the app on your mobile device and then wait a minute or so to allow your device to sync. The sync process will update our server with your correct app version so you'll be able to log into the web.
Adding Images in the Web App: We have a new video! If you're unsure how to add images to Items and Projects using the web app, then this video is for you.
Community Announcements:
One of our favorite companies in the app will be closing their doors, currently planned for December 2023. Heartfelt Creations has been in business for 26 years, with so many collections of stamps, dies, papers and molds. They are one of the best at paper flowers! We will miss them dearly. If you want to know more about this announcement, you can find a video message from Heartfelt Creations here.
CML Insiders: